THE BASICS OF ORGANIZING
A Guide to Organizing All Parts of Your Life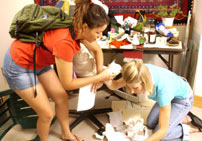 "Master Your Mess, Conquer Your Clutter"
Dirty dishes on the desk? Missing papers and lost phone numbers? A computer desktop even the CIA couldn't decipher? If you're fighting a battle against the mess in your room and the mess is winning, it can make it a lot harder to get your work done. K.J. McCorry has helped busy people across the country organize their work and their lives. Bring your organizing problems to this 2 ½-hour training, and learn new ways that work from a nationally recognized expert. K.J. can help you:
Break down big assignments and important papers into doable bits
Know where to put things so you can find them
Create a work space that will make your work f-l-o-w more easily
One student told us she needs K.J. to help her organize "her desk, her closet, her kitchen, her checkbook, her current and past school work, her career search, her work schedule, her phone calls - in fact, her life." This is what K.J. does.
Why not make your life a bit easier? A little time spent learning how to organize now can save you hours of frustration later.
Home | Copyright ©2012 Learning for Living®. All Rights Reserved.
Site created by Insight Designs Web Solutions, LLC.
Photographs by Olac Photography.