carolyn Jones, RN, MS, LPC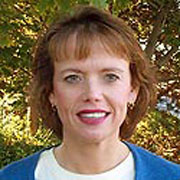 A nurse with many years of experience in teaching and therapy, Carolyn Jones is passionate about empowering college-age women to support each other and themselves in making healthy lifestyle choices. No one better understands the pressures, stress and juggling act that most college women face every day: trying to keep up a busy social life while carrying a heavy academic load, trying to please parents, friends, boyfriends and bosses, trying to look perfect, exercise, have a little fun and get enough sleep – and then start over again the next day. The good news is... no one has to deal with these challenges alone.
For the past 11 years, Carolyn has taught others how to manage stress in healthy ways. Carolyn shows women how to access their inner strengths and goals. She teaches life skills such as stress management, clear communication, assertiveness and boundary setting that put women in charge of their own lives. Carolyn has found that, when women have healthy control of their lives and choices, they no longer need to drive themselves toward unattainable physical perfection. Finally, Carolyn helps women set up ongoing support systems for themselves, knowing that this is their best long-term protection.
Carolyn has been a nurse and therapist at the Eating Disorder Center of Denver for the past four years. Before that, she worked in eating disorder programs at Bethesda Psychcare Systems and the Southeast Wyoming Mental Health Center. Since 1988, she has served on the nursing and educational staffs of major medical systems such as Centura Health Systems, Swedish Medical Center and Ivinson Memorial Hospital in Laramie, Wyoming. She was part of the Columbine Crisis Support team following the school shooting tragedy in 1999.
Carolyn received her B.S. in Nursing with honors from the University of Nebraska and her M.S. in Counselor Education from the University of Wyoming. She lives in Littleton with her family.
Carolyn gives trainings at Learning for Living® in Body Image for Women in College and Beyond.
Home | Copyright ©2012 Learning for Living®. All Rights Reserved.
Site created by Insight Designs Web Solutions, LLC.
Photographs by Olac Photography.