About Us » Why We're Here


Life as a student can be tough. You've got professors to please, maybe a boss to keep happy, and friends who want to know when you can get together. It sometimes seems like you're being pulled in a dozen different directions. While there is still time for fun, there are also times when you find yourself facing problems you haven't encountered before and days when you wonder where all your hard work is taking you.

We're here to help make your life easier.

The Learning for Living Institute® is a unique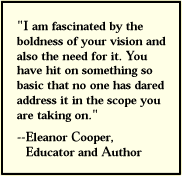 non-profit that offers low-cost Trainings designed to teach college and graduate students the skills they need to live less stressful, more successful lives.
In today's world, success means so many things: doing well in school, finding time for fun and friends despite your hectic schedule; finding satisfying work; having a happy marriage that lasts. More than ever you must have the capacity to adapt quickly, work well with others, take care of yourself and make a difference in your community.
Parents can help, but the world has changed dramatically since they were your age. Friends, too, can have good advice, but most of them are dealing with the same concerns you have. And while classes at your university can teach you many things, they can't prepare you for everything life brings or help you answer your more personal life-questions.
The result? Many young people leave college and graduate school with their questions unanswered and their doubts about the future as strong as ever.
At Learning for Living®, it's our job to help you find your own best answers.
Research tells us that the difference between success or failure in and after college is often mastery of certain key life-competency skills, like being able to communicate well, get along with others, and set and meet your goals. Not only can these skills prevent future unhappiness, they can also greatly enhance job success. In fact, surveys show these skills – effective communication, leadership, interpersonal skills, teamwork, motivation, adaptability, and problem solving – are at the top of the list of skills employers look for among the graduates they choose to hire.*
Because the concept of life-competency skills is relatively new, you might wonder what the term means and what such skills can accomplish. The idea of teaching people how to plan, communicate and get along with others might seem a little foreign. But, just like math or English, these skills can be successfully taught — with high-impact results.
Our Trainings are taught by our professional teachers who are experts in their fields. Unlike regular classes, which are typically based on lectures, Learning for Living®'s® Trainings are interactive and intended to be fun, as well as informative. You will join other college and graduate students in a casual, interactive environment to discuss your real-life concerns with our experienced teachers.
To get where you are today took hard work, talent and intelligence. Learning for Living® can help you make the most of skills you already have — and teach you valuable new ways of improving your life you might not have thought of before.
Learn immediately useful ways to solve issues in your everyday life.
* Research conducted by NACE, the National Association of Colleges and Employers.
How College Students Can Learn More
Home | Copyright ©2015 Learning for Living®. All Rights Reserved.
Site created by Insight Designs Web Solutions, LLC.
Photographs by Olac Photography.