Dorcas McDonald, Ed.D., Executive Director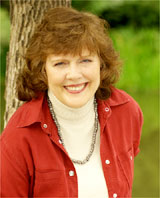 Dorcas McDonald, Ed.D., is the Founder and Executive Director of Learning for Living®. For more than two decades, Dorcas has researched and developed life skills and life-competency skill training programs.
In 1999, Dr. McDonald launched the non-profit organization Learning for Living® to develop and provide effective, low-cost Trainings exclusively for college and graduate students in order to provide them with the essential skills they need to create successful, fulfilling lives and build supportive, sustainable communities. Taught by experienced, professional teachers, these customized Trainings teach skills that range from effective communication and healthy relationships to goal achievement and career planning, stress and time management, social skills and assertiveness training, as well as many others.
Learning for Living® is not the first training organization Dorcas has developed. As a divorced parent living in Princeton, N.J., Dorcas founded and directed The Resource for Divorcing Parents, a life-competency skill program that was used by the Somerset County (N.J.) Court System to reduce divorce litigation and help divorcing parents move to more constructive levels of independence and parental cooperation.
The daughter of Scottish-American parents, Dorcas was born near Loch Lomond in Scotland and grew up in Chattanooga, Tennessee, and Atlanta, Georgia. She received her undergraduate degree in English from Cornell University, married, and settled in Princeton, New Jersey, where she raised two children, a son, now an architect on Long Island, and a daughter who is a photographer and owner of Olac Photography in Boulder.
During this time, Dorcas received a Master's in Clinical Psychology and a Doctorate of Education in Human and Organizational Development at the Fielding Institute in Santa Barbara, Calif., and completed her internship at the Peer-to-Peer Training Program at Princeton University. Her graduate study was shaped and determined by her long-range plan to create Learning for Living®.
With a strong commitment to environmental issues, Dorcas serves on the Board of INFORM, a national, non-profit environmental research organization. She drives a Chevy Volt that runs on electricity and has been active in many different environmental projects.
She has been named a member of Who's Who among Human Service Professionals, Who's Who Among American Women and several other professional organizations.
Having a strong interest in architecture, Dorcas has renovated some fairly complicated houses and landscaped several gardens. She also enjoys museums, concerts and plays, as well as hiking and cross-country skiing with family and friends whenever she has time.
Home | Copyright ©2015 Learning for Living®. All Rights Reserved.
Site created by Insight Designs Web Solutions, LLC.
Photographs by Olac Photography.