Donna L. Bauersfeld, Bookkeeper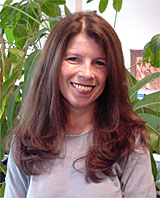 Donna Bauersfeld became a bookkeeper by accident — a real accident. She broke her arm severely and could no longer work at her job at the retail co-op where she was employed. Hoping to help Donna find a different job within her organization, the controller of the store believed she might have a talent for bookkeeping and sent Donna to school to learn the necessary skills. Donna discovered she not only enjoyed this work, but also had a talent for it. She worked in bookkeeping and office management at the co-op for five more years before changing jobs to work as a corporate accountant for Twentieth Century Fox for eleven years.
Since 1995, Donna has run her own accounting and bookkeeping business, The Bottom Line Business Services. She enjoys working with small businesses and non-profits because she believes her services can make an important contribution to their success.
The mother of two grown children, Donna lives in Coal Creek Canyon with her husband, Paul, and her "critters" — ten horses, four dogs, and five cats. She enjoys outdoor activities like biking, hiking, horseback riding, and camping.
Home | Copyright ©2015 Learning for Living®. All Rights Reserved.
Site created by Insight Designs Web Solutions, LLC.
Photographs by Olac Photography.